The Gothic history and monuments in Louny
Thanks the active trade Louny was one of the most important towns of the Czech kingdom in the 14th century. In the time of the Hussite wars Louny signed the military union together with Zatec and Slany, which made them stronger and opened the chance to conquer many villages, the properties of local monasteries. After the great fire of the historical center and both of suburbs in 1517, the town was rebuilt in very fast and modern way – in the late gothic. This time we call the "golden times" in medieval Louny. In 16th century the church of St. Nicholas was built by the famous architect Benedikt Rejt, the designer of the church of St. Barbara in Kutná Hora and Vladislav Hall in Prague. Nowadays the  church is open for general public and it is the national monument.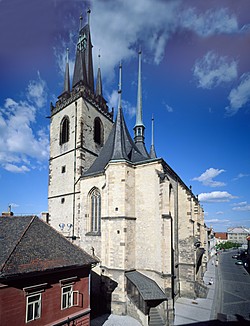 The disaster came with the soldiers of the Waldstein and the Thirty-years was, when the town was seriously destroyed and many inhabitants died. It took many decades to reset the blossoming society in this town. In the 19th centrury , after the industrial revolution, the town reached finally its old glory and the establishment of the railway started the new profitable era of Louny.
Gothic heart of Louny
The Premyslid dynasty founded a fortified royal town on the right bank of the Eger. Ottokar I of Bohemia sent the skillful land allocator to design the ship-shaped town with the church on its highest point. The medieval shape we can easily see even today, because the city fortification is preserved till today. The old town had two city gates and eight small gateways facing to the north and south.  The town itself was created by the main square, where the annual markets were hold and the fine network of smaller streets and rues. The city walls and gates were in the years rebuilt and raised, later there were bastions built for the better town protection. The legend, which was known round the whole kingdom, said Louny fortification is impenetrable and there was no chance to conquer the town.  Today we can admire about 1800 m of the city walls from northern and western sides.
The pearl of Louny is the church of St. Nicholas, built in the late gothic style and rebuilt by Benedict Rejt after the great fire of Louny in 1517. This church is a typical symbol of Louny and is visible on many pictures and old seals.  Thanks its tend-shape roof and huge tower it is easy to recognize. From the hill U Spravedlnosti, there is the stunning picture of the church and the Central Bohemian Massive in background.